An unexpected trip to Scotland 2007
...or when invited to go for a 40 minute bimble, decline! ...or how 40 minutes became a two-day epic
---
Saturday 20th, my mate Martin phoned me to see if I was available to do some strip flying in the local area. He wanted to go to Lambley, among others. I suggested that we nip up to the Lake District for some sightseeing, since the high pressure weather looked promising.
Approaching Chatsworth House, we could see the Derwent valley was filled with fog, but it was clear beyond.
Above: Chatsworth House, under there somewhere!
We passed the dams and heading towards Morecambe Bay, decided that we'd have a look at Pilling Sands.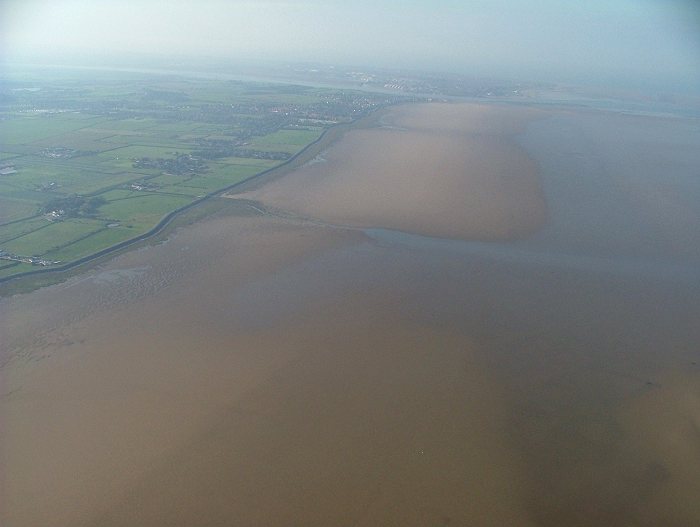 Above: Pilling sands in the haze
Crossing the bay towards Barrow, we turned towards the Lakes, flew up Coniston water (of Campbell fame) and thence to Ullswater. It had been many years since I had flown the Lakes, and I had forgotten how stunning are the views over the Lakes.
Above: Preparing to drop down at the southern end of Ullswater
Towards Carlisle, we flew over Greystoke, legendary home of Tarzan. I suggested to Martin that we park up at Carlisle and hire a car for an overnight trip to the Lakes.
Above: Greystoke
Carlisle were fairly quiet, and after refuelling the plane, we refuelled the pilots in the very welcoming and efficient airfield cafe. Martin picked up on my overnight suggestion, and countered with a proposal to continue to Oban for a night there. In for a penny, etc, and with a quick phone call to Oban, and some rather over-zealous ATC stuff on the Carlisle frequency, we were off.
Above: Carlisle
We routed between Prestwick & Glasgow, and as we got furter north, clouds became more apparent, and the vis started to drop a little.
But we quickly pass through this small area and northwards, the vis picked up immensely.
Approaching Oban, we made radio contact and landed after a circuit out to sea.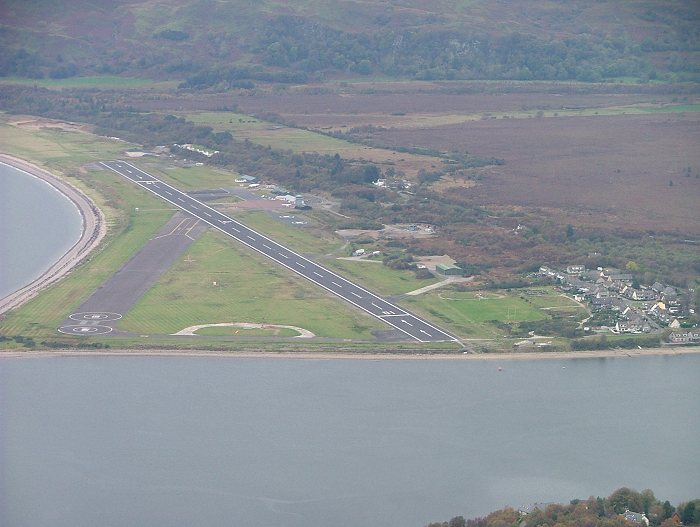 Above: Oban
We refuelled immediately, promising not to spill fuel on the new block-paved apron (I failed; the avgas bowser has no auto-shutoff). No tie-downs were available, so we used our own in the gravel edges of the apron. Brian the firecrew was extremely helpful, and recommended we pay for fuel the next day. Indeed all the staff at Oban were friendly and helpful. A taxi ride to town saw us booked into a little B&B, and after a trip to the Oban distillery to buy some whisky, we sampled the many delights of the harbour town (and its pubs).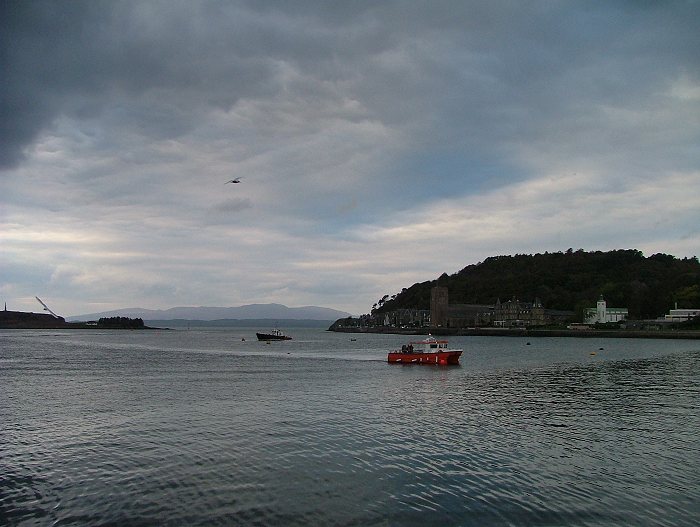 Above: The layout of the harbour front reminded me somewhat of Quiberon, but then I suppose a lot of ports will look the same, eh?
Next day we departed at nine o'clock to the Hebrides. At Oban, we had paid a "double landing fee" (totalling £20) , which entitled us to no further landing fees at the four Argyll & Bute-controlled airfields (Oban, Glenforsa, Coll & Colonsay) for four days. Unfortunately, Glenforsa was closed due to some inconsiderate pilot ripping the runway up. We continued past Tobermory (Ballymory to those who know!) with its coloured harbour frontage, towards Coll.
Above: Tobermory
I had spent some time in my youth on Coll, so was quite keen to land there. As with Oban, some investment had gone into the little airfield, and it now boasts a hard runway. Anecdotal chat had intimated that this investment (with EU money) was an attempt to aid the slow-down of the population permanently leaving the island (after all, from where do you call a plumber when there is only a twice-weekly ferry?)
Above: Arinagour, main town on Coll
Above: New but deserted terminus on Coll
Above: Breacachadh Castle, Coll
The winds had increased past Tobermorey and Coll, and after a lumpy take-off from Coll, we faced a 40 knot headwind at 1000'.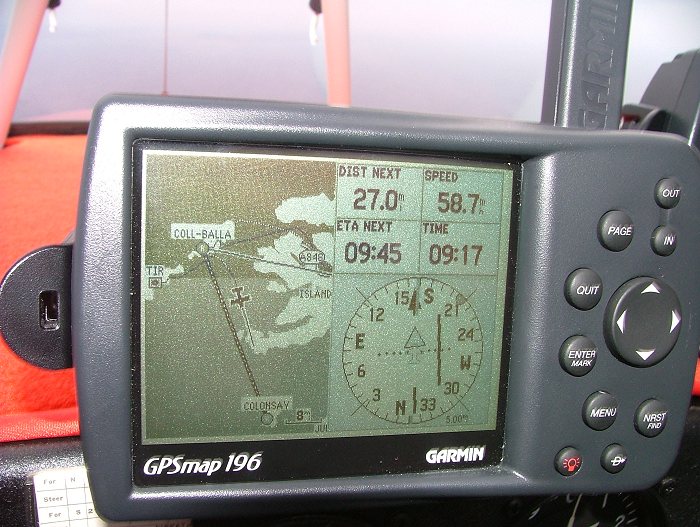 Despite our somewhat sedate progress, we weren't bothered. The scenery was stunning.
After some extensive sea crossings, we met the mainland just south of Prestwick, and negotiated some low crud until we approached the Solway firth, where Kirkbride offered a suitable lunch stop.
Above: Near Dumfries
Above: Kirkbride
We had a fantastic traditional Sunday roast lunch at the Hotel (conveniently parking the aircraft in the rear car park). Unfortunately, the field has no fuel, so we were resigned to returning to Carlisle, 12 miles away. Calling them up, we got less than a pleasant welcome over the air, and the ATC man seemed to find three aircraft in the circuit too much to handle (why they need full ATC there beats me).
So we decided to head south, and refuelled at Bagby where as ever you get a very friendly welcome, and the cheapest fuel of the trip.
Above: Dry stone walls on the Pennines
A quick stop at Lambley was our last stop before one last 20 minute leg home. We had eventually got to our intended destination, with just a small diversion inbetween.
---
Postscript: flight statistics:
Intended flight time: 40 minutes, Leicester to Lambley & back.
Actual flight time: 11 hours, Leicester to Coll & back
Fuel: 183 litres (16.75 lph)
Avgas cost: £1.35 per litre, total £248
Aeronautical stations communicated with: four (Carlisle, Oban, Kirkbride, Bagby).
---